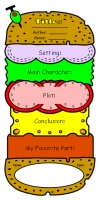 Do you want a fun and challenging book report idea for your students that will make them hungry to read their books? Your students will find this cheeseburger book report project delicious!
Project Measurements:
Width = 9 inches Height = 21 inches


You can read more information about this
resource by clicking on the link below:
Note: DO NOT purchase this resource on the above page where it is listed as $4.99.
Instead, click on the "Add to Cart" button found above, where it is being sold for $2.49.