March and St. Patrick's Day
Teaching Resources
Teachers Have Class! Issue #16/March 2011
March and St. Patrick's Day Teaching Resources and Ideas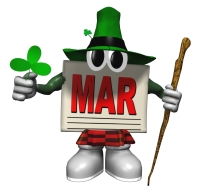 Welcome to the 16th newsletter of Teachers Have Class from Unique Teaching Resources!

This month's newsletter contains free teaching resources for March, St. Patrick's Day, and lesson plans to help you to encourage your students to "Think Green." I hope that these complimentary teaching resources provide you with some ideas for lesson plans to use during the month of March.

I want to begin this newsletter by saying thank you to all of the teachers in the U.K. who wrote me last month. These teachers kindly volunteered to help me advertise my website in the U.K. by placing my business cards in the mailboxes of the teachers that they work with. I mailed these teachers an envelope around February 20 while I was in London. Thank you very much for your help!

I was in London attending a conference on websites and it was fun to be a student instead of a teacher for a change (that's me in the blue circle). I learned a lot of tips and strategies that I hope will help me to improve Unique Teaching Resources. Some of these improvements will be things that I change "behind the scenes" and you will not notice them, but other changes will be more visible and I'll start implementing them this month.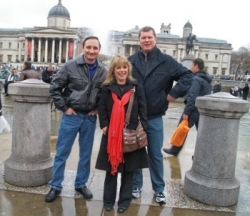 I was hoping to have enough time to visit a school in London, but the conference occupied most of my time. I was able to be a tourist for a few hours in the afternoons and saw The Houses of Parliament, The London Eye, Westminster Abbey, The National Gallery, The Tower of London, and Trafalgar Square (left). I loved London!


I've had many teachers who have written and asked me for an update on the results of applying to be a team on The Amazing Race with my sister. On February 24, my sister and I went to Pennsylvania for taped auditions for the show. There were about 600+ teams there and they chose 250 teams to actually interview on camera. We were the 70th team to be interviewed (below is a photograph of us taken right after our interview). The Amazing Race was also holding auditions in Kentucky and Oregon, so the producers will see a lot of teams.


We thought that we would be the oldest (I'm 44 and my sister is 51), shortest (I'm 4'11" and my sister is not much taller), and least athletic team there. But to our surprise, there was a wide variety of age groups and athletic abilities represented by the teams that they interviewed. The chances of us getting called back for the next round are very slim, but we had a lot of fun, giggled many times, and met some very interesting teams.

With the long and cold months of January and February behind us, it's finally spring! Happy St. Patrick's Day and may the luck of the Irish be with you!


Heidi McDonald



Special Reminder: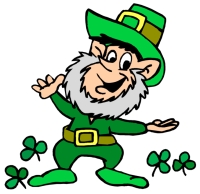 Reminder: The links to download the free teaching resources that are found in this edition of Teachers Have Class will only be available for 5 days.

After 5 days, the links to these free St. Patrick's Day teaching resources will be removed. Then, I will post this newsletter on my website so that teachers who visit Unique Teaching Resources will be able to read old editions of Teachers Have Class.

Although teachers who visit my website can read all of the previous editions of my newsletter, I only provide these free monthly resources to the teachers who have signed up to receive Teachers Have Class. These free resources are my small way of thanking these teachers for their support and interest.

So, be sure to download your free March resources promptly!

St. Patrick's Day Creative
Writing Stationery Set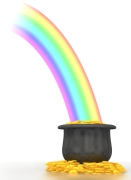 Each month I provide a free stationery and worksheet set in my newsletter because many teachers are often looking for thematic worksheets for each month, especially for creative writing.

Below is my Finding a Pot of Gold Stationery Set and the link to download it. The title banner is 5 pages long, which you can assemble and use on your bulletin board display.

There are color and black and white copies of this stationery for you to choose from, and there are 7 printable PDF pages in this free St. Patrick's Day Stationery Set.

Click here to download this free
Finding a Pot of Gold Stationery Set
Value: $0.99

Spring Into Math Squares:
Addition, Subtraction,
and Multiplication Puzzles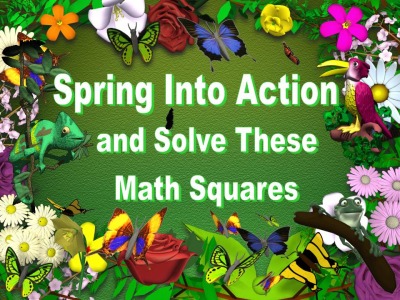 For this Spring Into Math Squares powerpoint lesson, students have to solve addition, subtraction, and multiplication equations. This spring powerpoint lesson uses engaging math puzzles that contain butterfly themed animations and graphics.

This set of spring math puzzles is similar to the math puzzles that I have on my Halloween, Thanksgiving, and Winter pages. Even though this resource contains a spring theme to it, this powerpoint lesson plan could easily be used at other times of the school year as well.

There are 5 different puzzles in this math powerpoint lesson. These puzzles are ideal to do as a warm up activity, and you could do one each day for a week.

Below is an example of a question slide.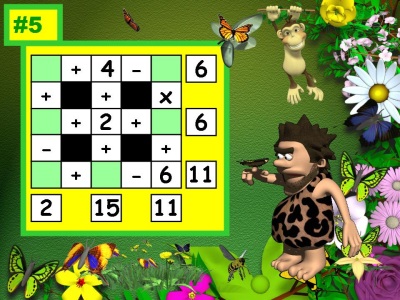 There are two student worksheets in this set of resources for students to use. Students copy the information in the question slides (example above) onto their worksheet, and then they figure out the numbers that belong in the missing boxes. Only the numbers 1-9 are used in the boxes, and each number is used one time.

Below is an example of the first student worksheet for Puzzles 1-3. There is a second worksheet for Puzzles 4 and 5 which is not shown.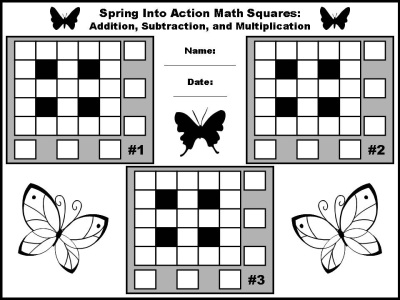 Below is an example of an answer slide. Notice that only the numbers 1-9 are used in the answer boxes, and each number is used just one time. Be sure to point this out to your students, as this will help them in solving these math puzzles.
Click here to download this free
Spring Into Math Squares Powerpoint Lesson
Value: $2.00

Think Green: Environmental
Awareness Lesson Plan Set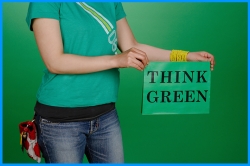 March is the perfect time of the year for your students to "Think Green" because St. Patrick's Day is associated with the color green. This set of environmental activities is designed so that you can link your language arts and science lesson plans together.

Think Green is a teaching resource set that includes a creative writing worksheet on which students can write an essay about ways to help protect the environment or tips for recycling items that are used in their homes.

This set of environmental lesson plans also includes a recycling sticker chart and an award certificate.

There are 11 pages of printable worksheets in this set of environmental teaching resources:
Think Green 5 page bulletin board display banner


Think Green color (and black and white) stationery


Think Green color (and black and white) sticker chart


Think Green color (and black and white) award certificate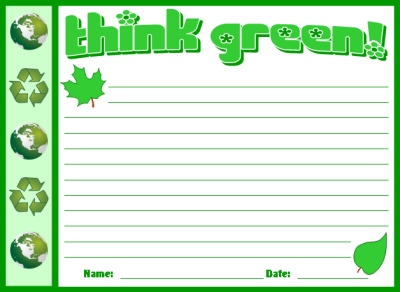 Below: This sticker chart can be cut out along the thick black borders so that you have uniquely shaped recycling trash can sticker charts. There are 20 boxes for students to earn stickers for performing tasks that are related to recycling or that are helpful to the environment.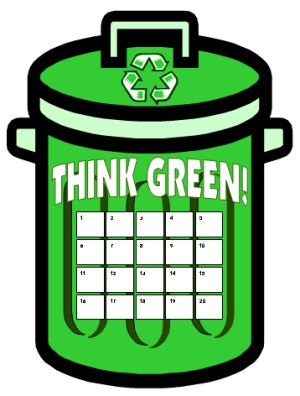 Below: You can present this award certificate to your students at the end of this Think Green unit or when they have completed their sticker charts.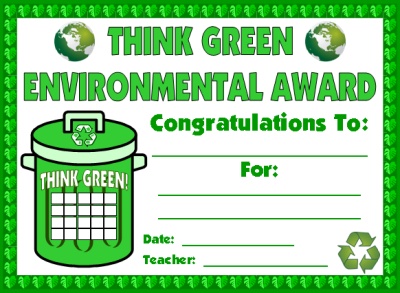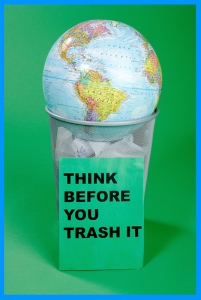 I have included a sticker chart in this recycling and environmental set of teaching resources because I use this incentive chart with my students during the months of March (Think Green) and April (Earth Day is April 22).

I begin this unit in March to tie in with green for St. Patrick's Day and finish it in April to tie in with April 22, Earth Day.

During March and April, my students complete various tasks to earn stickers on their Think Green sticker charts. These tasks range from bringing in aluminum cans from home, collecting paper in classrooms to recycle, or writing about something that they have done at home that helps to conserve energy or protect the environment.

I finish this unit on April 22, Earth Day. On this day, our class has a Think Green Earth Day party. All of the food items for this party are required to be green in color or healthy vegetables. My students have brought in cucumber sticks, green pasta with peas and broccoli in it, tossed salads, tabouli, and for dessert I have made green jello.

For our Think Green Earth Day party, we use paper plates (no plastic allowed) and students bring in their own fork or spoon so they don't throw plastic forks and spoons in the trash. If my students bring in food to share with their classmates, it has to be in washable containers which students would bring back home with them.

Although my students were having a party with primarily healthy food, they had a great time and enjoyed every minute of it. By talking about how we could prepare for our Think Green Earth Day party so that we wouldn't have to throw away any plastic or aluminum foil, it made my students think about how they could follow these same procedures for other similar events.
Click here to download this free
Think Green Teaching Resource Set
Value: $3.00

Earth Day Activities Available
on Unique Teaching Resources
I have created quite a few resources
specifically for Earth Day (April 22).

If you are interested in viewing teaching
resources that are related to Earth Day,
please click on the globe below.

March Calendar Set and
Monthly Writing Prompt Ideas

Each month I provide a free calendar set in my newsletter. These free calendar sets could be displayed on a bulletin board or placed inside a pocket chart. Below each calendar set, you will find a list of writing prompts for that month that may spark a creative writing idea that you could use with your students.

Below is my March Calendar Set and the link to download it. The March title is a 2 page banner that should fit in most standardized monthly pocket charts that many teachers use. I have designed large March days of the week that you may find useful. The calendar number dates also fit in pocket charts, and I have included a blank square and a birthday square to use. There are 11 pages in this free PDF March Calendar Set.



Click here to download this free
March Calendar Set.
Value: $1.50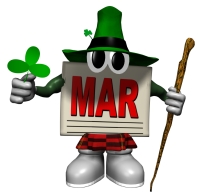 St. Patrick's Day and March Writing Prompts: Are you looking for a creative list of writing prompts and journal ideas to use during the month of March?

Below, you will find a list of general March writing topics and a list of specific calendar dates for March with corresponding creative writing ideas and topics.

I have created this list of St. Patrick's Day and March writing prompts and ideas for elementary school teachers and students, but many of these creative writing ideas and topics would also be appropriate for other grade levels.

You will find March writing prompts below that contain underlined links. If you click on an underlined link:
You will be directed to another page on Unique Teaching Resources that contains detailed lesson plan ideas for this writing prompt idea.


You will be directed to another website that contains useful information related to this writing prompt idea.
General St. Patrick's Day
and March Writing Prompts:

If I were a kite I would...


Finding a pot of gold


Think green by recycling


Everything I touch turns green


Dear Leprechaun


Meet my Leprechaun friend


Many vegetables are green. List as many green vegetables as you can think of and how often you eat these vegetables.


A time that I was lucky


At the end of the rainbow …


Name 5 things that are green and where you see them.


It is St. Patrick's Day and a Leprechaun visits your school. He is carrying a large sack filled with magical items. He opens the bag and gives you a magical item. What is it and what can it do? Tell what happens when you use it.


On the way to school you see a rainbow. When you touch it, you suddenly find yourself in a magical world. Describe this world and tell what you do there.
March Celebrations, Events,
Holidays, and Dates in History:

National Women's History Month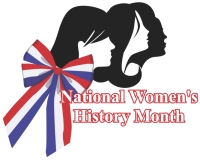 March is National Women's History Month. Women's History Month is about highlighting the extraordinary achievements of women throughout our history, while recognizing the equally significant obstacles they had to overcome along the road to success. This event traces its beginnings to the first International Women's Day in 1911. The public celebration of women's history in the United States began in 1978 as "Women's History Week" in Sonoma County, California. In 1981, Senator Orrin Hatch of Utah and Representative Barbara Mikulski of Maryland co-sponsored a joint Congressional resolution proclaiming a national Women's History Week. In 1987, Congress expanded the celebration to a month, and March was declared Women's History Month.
March 2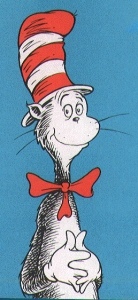 Read Across America Day
is celebrated on March 2 and it is an annual reading motivation and awareness program that celebrates the importance of reading. This date was chosen to coincide with the birthday of a famous children's author,
Dr. Seuss.
Theodor Geisel, better known as Dr. Seuss, was born on March 2, 1904 in Springfield, Massachusetts. Dr. Seuss is one of the most beloved children's book authors of all time.
March 3

The inventor
Alexander Graham Bell
was born on March 3, 1847 in Edinburgh, Scotland. He is best known for his development of the telephone. Both his mother and wife were deaf, and this profoundly influenced Bell's life's work. His research on hearing and speech led him to experiment with hearing devices. Alexander Graham Bell was awarded the first U.S. patent for the telephone in 1876.
Name three ways that life would be different if telephones had never been invented.
Write a letter to Alexander Graham Bell and tell him about the cell phones that are used today.
What do you think our telephones will be like in 20 years? Design a phone of the future and describe the features of your phone.
March 14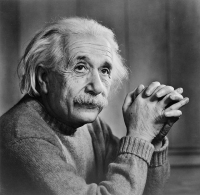 The scientist
Albert Einstein
was born on March 14, 1879 in Germany. Einstein is widely regarded as one of the most influential and best known scientists and intellectuals of all time. He is often regarded as the father of modern physics. He received the 1921 Nobel Prize in Physics. At an early age, Einstein showed a great interest in math and science. He built models and mechanical devices for fun and began to show a talent for mathematics.
How and why is math important to everyday life and jobs?
Write these quotes by Einstein on your board and have students select one to write about:
(1) Anyone who has never made a mistake has never tried anything new.
(2) Imagination is more important than knowledge.
(3) Learn from yesterday, live for today, hope for tomorrow. The important thing is not to stop questioning.
(4) Strive not to be a success, but rather to be of value.
March 11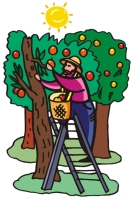 Johnny Appleseed Day
is celebrated on March 11. John Chapman, better known as Johnny Appleseed, was born on September 26, 1774 in Massachusetts. John Chapman was raised on a small farm on Massachusetts. His favorite place was his father's apple orchard because he loved apples and this inspired him to introduce and plant apple seeds through the frontiers of Ohio, Indiana, and Illinois. Johnny Appleseed was an American pioneer and is best known for roaming the countryside planting apple seeds from which many apple orchards are said to have begun.
As your students are writing their prompts, bring in an apple for each student to eat.
"An apple a day keeps the doctor away." What do you think this popular saying means?
If you could choose the seeds from one fruit or vegetable to carry around and plant, which one would you choose? Give reasons for your choice and where you would plant these seeds.
March 12

Girl Scout Day
is celebrated on March 12. The Girl Scouts was founded in 1912 by Juliette Gordon Low in Savannah, Georgia. There are now more than 3 million members. The Girl Scouts aim to develop qualities in girls that will serve them all their lives, like leadership, strong values, social conscience, and conviction about their own potential and self-worth.
Clubs and organizations are a great way to learn important skills. What types of clubs and/or organizations do you belong to? What are some of the skills that you have learned?
If you don't belong to a club, which club would you like to join?
March 14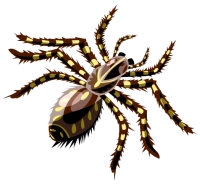 March 14 is
Save a Spider Day.
Spiders are not insects, but are of the class "Arachnida." Spiders are quite helpful, but despite that fact, these little creatures are feared by many. They have four pairs of segmented legs, and can grow a new leg if they lose one. Most spiders have eight eyes, and they do not have antennae or wings.
How do you feel about spiders?
Research and find out ways that spiders are helpful.
Pretend that Spider Man is your best friend. Write about the adventures that you have together.
If you are reading Charlotte's Web with your students this year, it is fun do a spider related activity on this day. Pretend that you are one of Charlotte's children and write a narrative about what is happening on the farm and what has happened to the other animals.
You will find some cute spider arts and crafts ideas on this web page: http://www.buglife.org.uk/discoverbugs/lovespiders/lovespidersactivities.htm
This web page contains some fun facts about spiders for children: http://www.tooter4kids.com/Spiders/Spiders.htm
March 17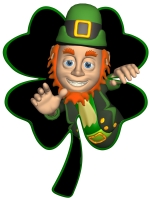 March 17 is
St. Patrick's Day,
in honor of the saint who died today in A.D. 464. The famous legend about St. Patrick is that he drove all the snakes from Ireland by banging a drum.

If you are interested in viewing
teaching resources that are related
to March and St. Patrick's Day themes,
please click on the leprechaun below.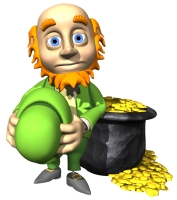 Click Here To Go To
St. Patrick's Day Teaching Resources
Web Page




Spring Teaching Resources
If you are interested in viewing
teaching resources that are related to Spring themes,
please click on one of the rainbows below.



Below is a list of the book report sets
that are available on Unique Teaching Resources:

Please click on the links below if you are interested in viewing any of the book report projects that are available on Unique Teaching Resources:

MOST POPULAR:

CHARACTER RELATED TEMPLATES:

FOOD TEMPLATES:

ANIMAL TEMPLATES:

NATURE RELATED TEMPLATES:

TECHNOLOGY TEMPLATES:

BUILDING TEMPLATES:

TRANSPORTATION TEMPLATES:

OTHER CATEGORIES:



Thank you for your interest in subscribing to my newsletter. Remember to download your free resources within 5 days of the date that it was sent.

Please be sure to check out the other pages on my website for a large variety of other teaching resources that will engage your students in learning and save you valuable time.

Sincerely, Heidi McDonald

Creator and Site Manager
Unique Teaching Resources
P.S. My next newsletter will be my April Issue.

I plan to send out this newsletter around March 30, 2011.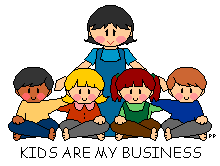 Click here to leave: March 2011 Teachers Have Class Newsletter
and return to: Teachers Have Class Newsletter Main Page
(list of all newsletters)

Click here to return to Unique Teaching Resources
(home page)