Hi,


Back to School Teaching Resources and Ideas
Teachers Have Class! Issue #10
August and September 2010 Teaching Resources and Ideas

Special Back to School Edition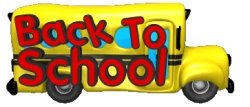 Welcome to the tenth newsletter of Teachers Have Class from Unique Teaching Resources!




During the first year of my website, I did not think about advertising or researching ways to help more teachers find my website. You likely stumbled upon Unique Teaching Resources by doing a search on the Internet yourself. The most powerful form of advertising is word of mouth and personal recommendations. Now that I am beginning the second year of my website, I would like to try and increase the number of teachers who visit my website.

For this reason, I would greatly appreciate it if you would do me a kind favor and forward this e-mail to any of the teachers that you know. Thank you very much for helping me to spread the word about my website.

In this Back to School edition of Teachers Have Class you will find the following:


Grades 1 - 8 Customized Welcome Back to School Bulletin Board Display Banners


Grade Level (1 - 8) Back to School Classroom Display Set


Creative Writing Bus Stationary Teaching Resource Set


Reading Sticker Charts Using Apple Shaped Templates


Student of the Week Award Certificate


Good Citizenship Award Certificate


August Calendar Set


August Writing Prompts and Creative Writing Ideas


September Calendar Set


September Writing Prompts and Creative Writing Ideas


Recent Updates to Unique Teaching Resources

Click here to go to the August and September Back to School 2010
Edition of Teachers Have Class!





If the above link does not work for you, copy and paste the address below into your navigation bar in order to read the Back to School 2010 edition of Teachers Have Class!



http://www.uniqueteachingresources.com/Back-To-School-2010-Teachers-Have-Class.html






Thank you for your interest in subscribing to my newsletter.
Remember to download your free resources within
5 days of the date that it was sent.

Sincerely,

Heidi McDonald

Creator and Site Manager
Unique Teaching Resources