Hi,


October and Halloween
Teaching Resources and Ideas
Teachers Have Class! Issue #11
October 2010 Teaching Resources and Ideas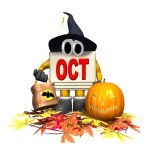 Welcome to the eleventh newsletter of Teachers Have Class from Unique Teaching Resources!




In this October and Halloween edition of Teachers Have Class you will find the following:


P.U.M.P.K.I.N. Acrostic Poem and matching bulletin board display banner


October Creative Writing Stationary Teaching Resource Set


October Calendar Set


October Writing Prompts and Creative Writing Ideas


Recent Updates to Unique Teaching Resources

Click here to go to the October 2010
Edition of Teachers Have Class!





If the above link does not work for you, copy and paste the address below into your navigation bar in order to read the October 2010 edition of Teachers Have Class!



http://www.uniqueteachingresources.com/October-2010-Teachers-Have-Class.html






Thank you for your interest in subscribing to my newsletter.
Remember to download your free resources within
5 days of the date that it was sent.

Sincerely,

Heidi McDonald

Creator and Site Manager
Unique Teaching Resources