Umbrella Reading Sticker Chart Set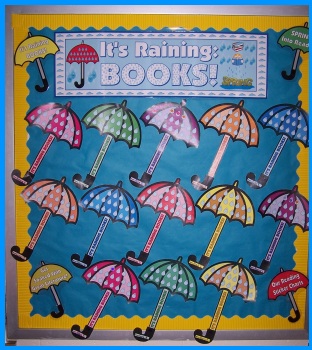 Above: Bulletin board display of "It's Raining Books!" sticker charts.
This display is from Teresa's classroom. Teresa teaches Grade 4 in New Jersey.
"It's Raining Books!" is a colorful sticker chart set that will help you to motivate your students to read this spring.
There are two templates that are glued together to form an umbrella and handle. This sticker chart measures 10 x 15 inches when it is assembled. There are 20 raindrops to record the number of books that students have read.

Above: 5 Page Bulletin Board Display Banner
Above: These umbrella templates measure 15 x 10 inches.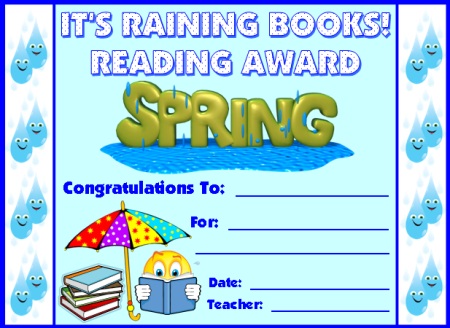 This free sticker chart set contains the following:
Black and white umbrella and handle templates
9 different colors of umbrella and handle templates (not shown)
5 page bulletin board display banner
Student award certificate
Parent letter and reading record sheet to send home in a Microsoft Word document that you can edit to meet your individual needs and requirements (not shown)
8 umbrella accent pieces for your bulletin board display (not shown)