Sign Up To Receive My Free Newsletter:
"Teachers Have Class!"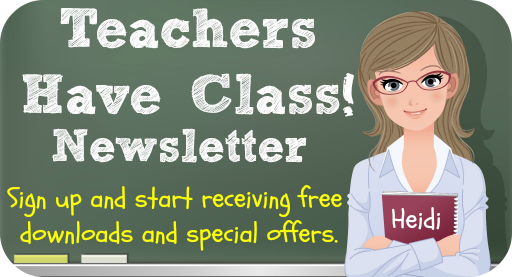 "Teachers Have Class!" is a free newsletter
from Unique Teaching Resources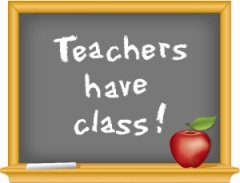 In Teachers Have Class, you'll receive Free Downloads of the Day, which are only available in my newsletters.
You'll also receive information during the month about special sales that are only made available to teachers who have subscribed to "Teachers Have Class!"
You'll receive two complimentary gifts as part of the subscription process.
You'll find descriptions for the 2 free sign up gifts below the sign up form.
Complimentary Sign Up Gift #1:
Set of 40+ Rainbow Graphics and Clip Art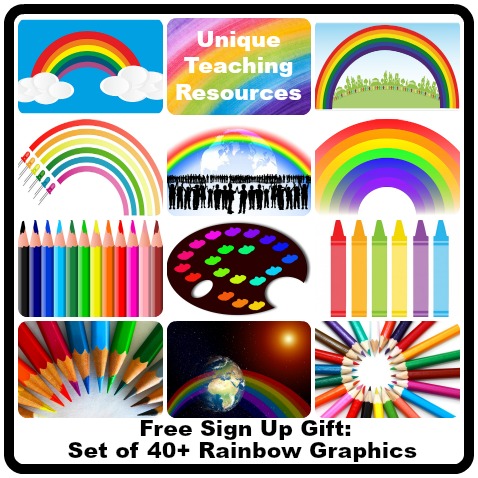 Complimentary Sign Up Gift #2:
Reading Rainbow Sticker Chart

There are 25 boxes for you to place stickers inside of on these colorful rainbow templates. You can use these incentive charts to promote and encourage your students to read.

Your students will be motivated to reach the target of getting 25 stickers on these reading rainbow sticker charts.

This free sticker chart set contains 19 pages of printable teaching resources and contains the following components:
Black and white rainbow sticker chart template (1 page)
Colored rainbow sticker chart templates (1 page)
Matching bulletin board display banner (5 pages)
Student award certificate in color and black and white, one designed for girl students and another designed for boy students (4 pages)
Parent letter and reading record sheet to send home in a Microsoft Word document that you can edit to meet your individual needs and requirements (2 pages)
6 rainbow accent pieces for your bulletin board display (6 pages)
Above: Example of classroom bulletin board display of
students' Reading Rainbow sticker charts.

Above: 5 page bulletin board display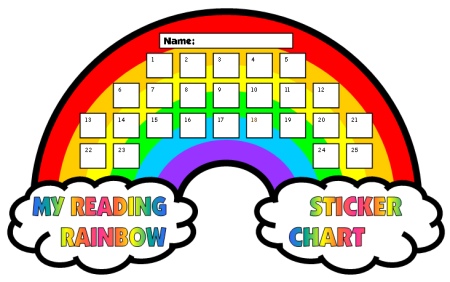 Above: Reading Rainbow Sticker Chart
Above: Reading Rainbow Award Certificates

Do you have a Facebook account?