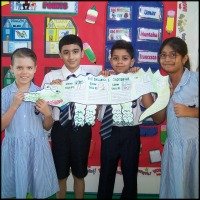 Your students will enjoy completing this extra large group project together.
For this fun cooperative group project, students work together to describe the four clever tricks that the Enormous Crocodile plans in order to eat the children in town.
There are also areas on the crocodile templates for students to draw pictures that represent the crocodile's four clever tricks.
Click below for more information about:
The Enormous Crocodile
Crocodile Group Project