Book Report Projects: Value Pack
Save 60% on a Bundled Set of
28 Fun and One of a Kind Book Report Templates
VALUE PACK:
28 Book Report Projects
Regular Price = $146.76

+ 14 Free Projects
Value = $67.45

60% Off
Price = $58.70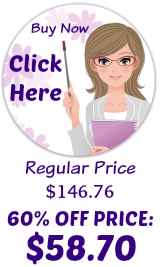 Engage your students in fun and challenging reading activities all year long with this Value Pack of 28 unique book report templates and 14 FREE resources.
Are your students bored of traditional one page book report worksheets?
Do you want to engage your students in fun, challenging, and creative reading activities?
Do you want to save yourself money and valuable time in planning?
Do you want to create colorful and eye-catching bulletin board displays that will impress your principal, parents, and other teachers?
If you answered
"YES!" to these questions, then this Value Pack is
ideal for YOU! ==>
Teacher Testimonials About the
Book Report Projects in this Value Pack: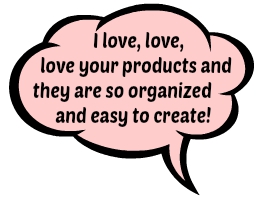 Name: Stephanie (Grade 4)
From: New York, U.S.A.

Hi Heidi, I just wanted to update you on my purchases. We love them!! We started working on our STAR book reports this week for "Frindle" It is working out great! I think we will do the CHARACTER book report for our social studies book, "The Kid Who Ran For President." I love, love, love your products and they are so organized and easy to create!
Name: Margaret (Grade 5)
From: Victoria, Australia

Dear Heidi, I just wanted to say thank you for the most amazing teaching resources that I have ever come across in my thirty years of teaching. I have used many of your book report projects this year and my students absolutely loved them. What was particularly pleasing was seeing some of my reluctant readers (especially the boys) really wanting to read books and complete the activities. Keep up the great work!
Name: H. Dyson (Year 3)
From: Scotland

Hello from Scotland! Thank you very much for the Biography Book Report Newspaper Project. I am looking forward to my pupils completing them during their work on Mary, Queen of Scots. I would just like to say a huge thank you for all the great resources that you have available on your website - they are so creative and very motivating.
Name: Shirley (Grade 1)
From: Florida, USA

Hi Heidi, I thought you would like to know that I just finished doing the rocket book report projects with my 1st graders. THEY LOVED IT!! I will be looping up to 2nd Grade with them next year, so I am saving the school bus book report for the beginning of the year. You can bet that I will be ordering others!
Name: Mary (Grade 4)
From: New York, U.S.A.

I feel so fortunate to have found your website and I have referred several of my co-workers to your website. Just for the month of January, there were three teachers displaying your book report projects. I had the 1st place trophy reports, my neighbor to the left had the computer reports, and my neighbor to the right had the birthday cake reports. Thank you so very much for all of your work!

This Value Pack Includes 28 Book Report Projects:
Note: Click on "View" to read detailed information about each project.
Total Price = $146.76
60% Off Price ==> $58.70
P.S. Keep scrolling to see the 14 FREE projects (Value $67.45) that are included in this Value Pack!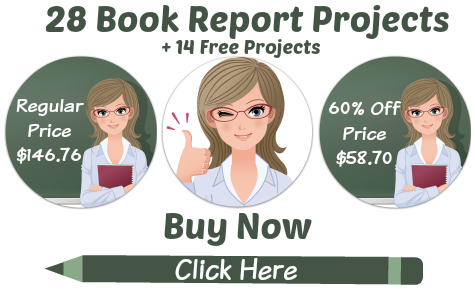 This Value Pack Includes 14 Free Projects:
Note: Click on "View" to read detailed information about each free project.
Total Value of Your
Free Projects = $67.45
Click on the above ADD TO CART button to purchase this Value Pack.

You will be emailed a download link for the Value Pack that you purchased
so you can download and use the projects in this set today!
Secure payment method through Paypal.
Use your credit card or Paypal account.
Download link is emailed to you today!
Print as many copies of each project as you want.
Save and reuse these fun projects forever!



Note:

After your payment has been confirmed with Paypal, you will automatically be sent your download link in an email.

This process usually takes less than 10 minutes, so you will be able to download, save, and print these projects tonight!

This large Value Pack is around 145 MB in file size. Depending on your Internet speed, it should take you between 2 - 8 minutes to download this set.
Engage your students in fun and
challenging reading activities all year long!
Save yourself valuable time in planning and creating designs for projects.
Save $$ with this Value Pack of 28 fun and one of a kind book report projects.
PLUS: This bundled set includes 14 free projects worth $67.45.
VALUE PACK:

28 Book Report Projects
Regular Price $146.76

+ 14 Free Projects
Worth $67.45

60% Off
Price $58.70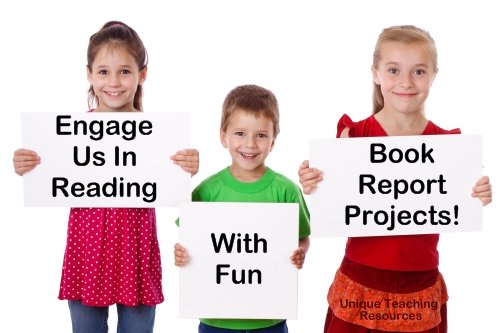 Thank you for visiting my Book Report Projects page.
Please be sure to check out the other pages on Unique
Teaching Resources for a large variety of fun lesson plan activities
that will engage your students in learning and save you valuable time.

Creator and Website Manager
Unique Teaching Resources