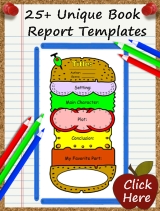 - Cheeseburger Templates
&nbsp&nbsp(shown above)
- 25+ Book Report Templates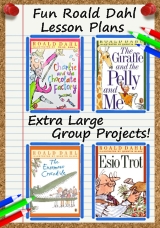 - Charlie & the Choc. Factory
- The Giraffe & the Pelly & Me
- The Enormous Crocodile
- ESIO TROT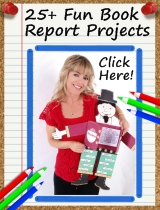 - Character Body Project
&nbsp&nbsp(shown above)
- 25+ Book Report Projects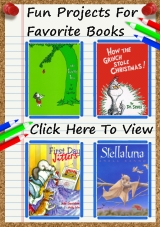 - The Giving Tree
- How the Grinch Stole Christmas
- First Day Jitters
- Stellaluna
- Other Favorite Books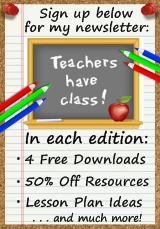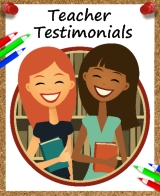 I have been buying your unique teaching resources for a few years now, and I just love them! My students are much more engaged in doing book reports as well as other creative writing assignments because of you. Thank you.
Name: Marla (Grade 4)
From: New Jersey, U.S.A.

Hi Heidi. I just want t say that my class is year one in Australia and they just love all of your work. We use your book report projects religiously and it has made my teaching and the students' learning improve by about 100%. The students just love it. Thank you so much for your help.
Name: Catherine (Year 1)
From: Australia.

Hi there! I just found your website through Pinterest, and I am looking forward to using your book reports that I just bought to help motivate my fifth grade students! Thanks for putting these out there. I'm a relatively new teacher and need all the help I can get!
Name: Noell (Grade 5)
From: Illinois, U.S.A.

I just wanted to update you my purchases. We love them!! We started working on our STAR book reports this week for "Frindle" It is working out great! I think we will do the CHARACTER book report for our social studies book, "The Kid Who Ran For President." I love, love, love your products and they are so organized and easy to create!
Name: Stephanie (Grade 4)
From: New York, U.S.A.

What a delightful and informative site!!! I'm having so much fun browsing and I've been teaching for 32 years!!! You can always teach an old dog new tricks, especially if you're creative and making learning FUN!!! You must be a VERY SPECIAL TEACHER ... how lucky your students and parents are!!!
Name: Kathy (Grade 4/5)
From: Oregon, U.S.A.

I stumbled across your website over the weekend and I'm SO glad I did! Some great ideas and an extra thank you for the UK spellings! I bought the back to school pencils, punctuation puppies, Willy Wonka group project and the characters! I think these are great resources and even though it's the summer holidays, I've been into school to get my display paper up and have put up the title banners - they look brilliant! Thank you!
Name: Jemma (Year 4)
From: UK

I love all your powerpoints. I used the Halloween one for my observation/evaluation this year and have never received better scores. All of the students were participating and loved having their names in the sentences. Your powerpoints made me look great in front of my principal. She is now sharing your website with other teachers on our staff. Keep up the great work.
Name: Carole (Grade 3)
From: Utah, U.S.A.

Heidi, I just had to write and let you know that your website has helped me create the most awesome author study of Roald Dahl's books. My students loved completing the big animal shaped projects you designed for The Enormous Crocodile, Esio Trot, and The Giraffe, and the Pelly and Me. For the final project, they had so much fun writing and drawing about the characters from Charlie and the Chocolate Factory using your Willy Wonka Factory project. Thanks for sharing your scrumdiddlyumptious ideas !
Name: Jennifer (Grade 4)
From: California, U.S.A.

I can honestly say that I have never had such great results from children with a book report as I did using this wanted poster book report activity. I was blown away and the parents who have seen the finished projects were amazed too. Thank you! I will definitely log on again to see your other products and your after sales service is awesome, thanks again. Very much appreciated.
Name: Lesley (Year 2)
From: London, U.K.

Your lesson plans for Stellaluna, Twas the Night Before Thanksgiving, and How the Grinch Stole Christmas have saved me so much planning time this year. My Gr. 3 students really enjoyed completing the projects that you designed for each of these books. I was able to create great Halloween, Thanksgiving, and Christmas displays in my classroom this year with their projects. Thanks for sharing your ideas and for saving me time.
Name: Tina (Grade 3)
From: Alabama, U.S.A.

My students loved your seasonal powerpoint games for Halloween and Thanksgiving. They thought they were playing a game instead of reviewing grammar ;-) I've already purchased all of your other holiday powerpoint lesson plans. Keep making more of these great activities, more POWER to you Heidi!
Name: Stephanie (Grade 4)
From: Oregon, U.S.A.

I feel so fortunate to have found your website and I have referred several of my co-workers to your website. Just for the month of January, there were three teachers displaying your book reports. I had the trophy reports, my neighbor to the left had the computer reports, and my neighbor to the right had the birthday cake reports. Thank you so very much for all of your work!
Name: Mary (Grade 4)
From: New York, U.S.A.

I just wanted to say thank you for the most amazing teaching resources that I have ever come across in my thirty years of teaching. I have used many of your book report sets this year and my students absolutely loved them. What was particularly pleasing was seeing some of my reluctant readers (especially the boys) really wanting to read books and complete the activities. Keep up the great work!
Name: Margaret (Grade 5)
From: Victoria, Australia

My students are working on their Charlie and Chocolate Factory projects that I bought on your website. One of my students said how nice the other character wheels were and he said, "Besides this is just fun!" Not bad for a third grade boy!!
Name: Rebecca (Grade 3)
From: Maine, U.S.A.

I'm writing to tell you that my students just finished the Charlie and the Chocolate Factory group projects. They worked so hard, and the Willy Wonka Chocolate Factory projects turned out great! We had them to show for student led conferences. The parents were very impressed, and so were many of the other teachers and my principal. They all commented on my students' work and your creative templates. My students had so much fun doing these projects.
Name: Linda (Grade 3)
From: Maine, U.S.A.

Simply stated, I LOVE YOUR BOOK REPORT SETS!!!!!!! I'm interested in purchasing them ALL!!!! I've been looking for something like this for quite some time. My students are so excited about reading this year, and it is all because of your fun projects!
Name: Temesa
(Gifted and Talented K-5)
From: Texas, U.S.A.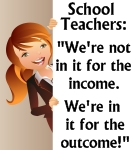 Click the "Like" button
below if you want to
join our Facebook group
of over 44,000+
dedicated teachers.