Free Printable March Classroom Calendar
For School Teachers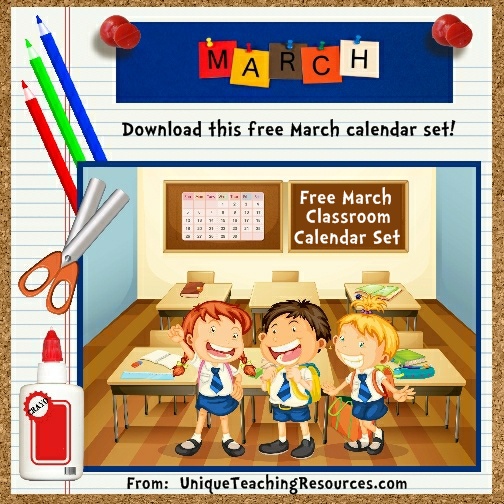 Ideal for March classroom bulletin board displays.
These free printables fit perfectly inside pocket charts.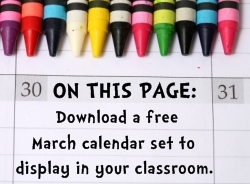 On this free downloads for teachers page, you will find a classroom calendar set that you can use for a bulletin board display in your classroom this March.

I have designed these free March printables to fit perfectly inside pocket chart calendars.

I used shamrock and pot of gold graphics for this March calender set because they are both associated with St. Patrick's Day and March themes.

Previously, this March teaching resource was available for purchase at $1.50, but as of August 2013, this is now a free downloadable teaching resource.
These free printables are my way of saying
"Thank You" for visiting Unique Teaching Resources!

This free printable March classroom calender set includes the following:
March title (2 page printable banner)
large days of the week (not shown below)
small days of the week
dates squares (1 -31)
holiday squares
student birthday squares
blank pot of gold squares (not shown below)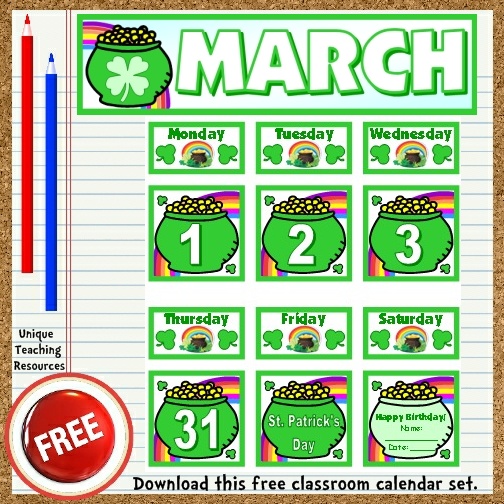 Above: Free printable March classroom calender.
Click on the link below to download this FREE classroom bulletin board display set:


Download these other free January - December
calendar sets by clicking on the month titles below.

Are you looking for some fun book report project ideas?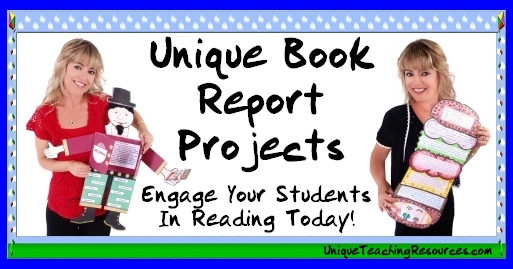 Are you looking for some fun lesson plan activities
and writing prompt ideas for March and St. Patrick's Day?

On my March and St. Patrick's Day teaching resources pages, you will find fun lesson plan ideas and writing templates that can be used during the month of March.

Below are a few writing prompt ideas to use for March. You can find more writing prompts for March by clicking on the link below:
Go To: March Writing Prompts Page
Finding a pot of gold
At the end of the rainbow I found ...
Dear Leprechaun
Meet my Leprechaun friend
On the way to school you see a rainbow. When you touch it, you suddenly find yourself in a magical world. Describe this world and tell what you do there.
Finding a four leaf clover
Do you have a special item (coin, favorite piece of clothing, keepsake, etc) that you consider to be a good luck charm??
Do you have a favorite number that you feel is lucky for you?
It is St. Patrick's Day and a Leprechaun visits your school. He is carrying a large sack filled with magical items. He opens the bag and gives you a magical item. What is it and what can it do? Tell what happens when you use it.
Write a poem for St. Patrick's Day
Write an I.R.I.S.H. acrostic poem
Write a limerick for St. Patrick's Day.
Write a poem about a time that you were very lucky.
To combine March, spring, and green for St. Patrick's Day together, have your students write poems about caterpillars.



Before completing this poetry assignment with your students, you could read them The Very Hungry Caterpillar by Eric Carle.
Planning a vacation to Ireland.
"Think Green" by recycling.
This St. Patrick's Day I will be green by reducing, reusing, and recycling.
We should "Think Green" every day of the year!
Encourage your students to "Think Green" and recycle this March by giving them a recycling sticker chart (example shown on the right).
Student can use these recycling trash can sticker charts to record each time that they practice one of the 3Rs: Reduce, Reuse, and Recycle.
Everything I touch turns green.


While students are "Thinking Green," have them complete a unique family tree project.
Many vegetables are green. List as many green vegetables as you can think of and how often you eat these vegetables.
Name 5 things that are green and where you see them.
For a fun green project that will require a lot of green crayons, green coloring pencils, and green glitter this March, read your students "The Enormous Crocodile" by Roald Dahl. Then, assign your students a fun crocodile group project that they can complete together.
For an extra large eye catching green bulletin board display in your classroom this March, read your students "ESIO TROT" by Roald Dahl. Your students will think that these turtle shaped group projects are a fun green activity to complete together.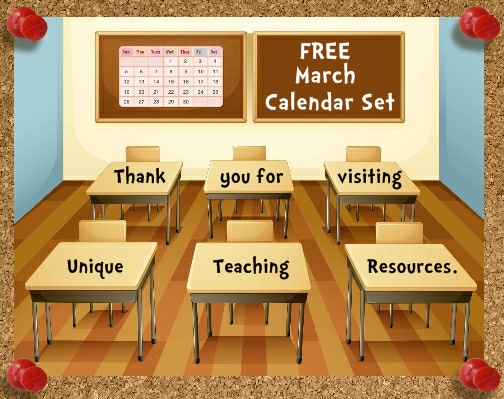 Thank you for visiting my Free Printable March Classroom Calendars page.
Please be sure to check out the other pages on Unique
Teaching Resources for a large variety of fun lesson plan activities
that will engage your students in learning and save you valuable time.

Creator and Website Manager
Unique Teaching Resources