Free Printable November Classroom Calendar
For School Teachers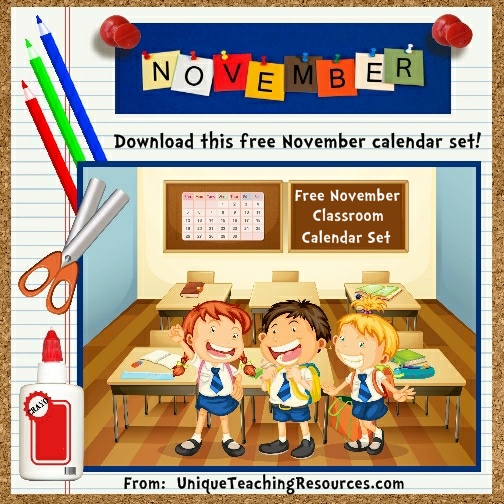 Ideal for November classroom bulletin board displays.
These free printables fit perfectly inside pocket charts.


On this free downloads for teachers page, you will find a classroom calendar set that you can use for a bulletin board display in your classroom this November.

I have designed these free November printables to fit perfectly inside pocket chart calendars.

I used a turkey theme for this November calendar set because turkeys are associated with both Thanksgiving and Fall themes.

Previously, this November teaching resource was available for purchase at $1.50, but as of August 2013, this is now a free downloadable teaching resource.
These free printables are my way of saying
"Thank You" for visiting Unique Teaching Resources!

This free printable November classroom calender set includes the following:
November title (2 page printable banner)
large days of the week (not shown below)
small days of the week
dates squares (1 -31)
holiday squares
student birthday squares
blank turkey squares (not shown below)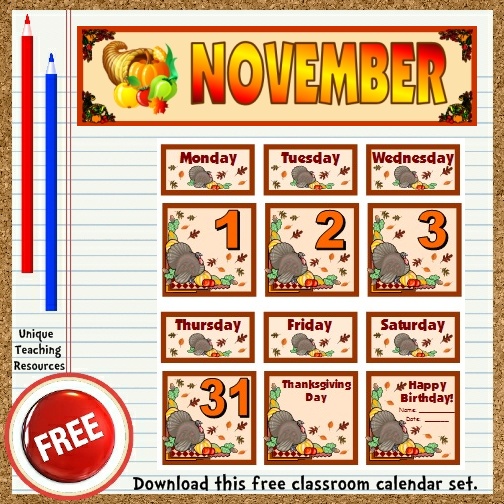 Click on the link below to download this FREE classroom bulletin board display set:


Download these other free January - December
calendar sets by clicking on the month titles below.

Are you looking for some fun book report project ideas?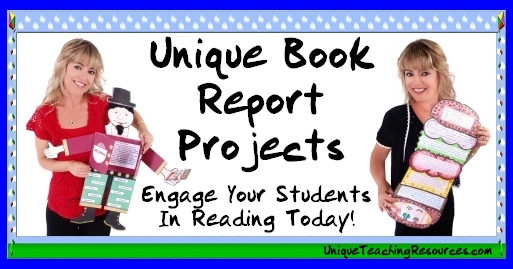 Are you looking for some fun lesson plan
activities for November and Thanksgiving?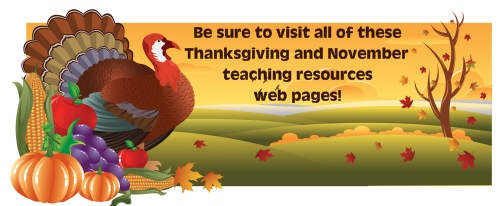 If you are interested in viewing the other
Thanksgiving teaching resources that are available
on my website, click on the links that are found below.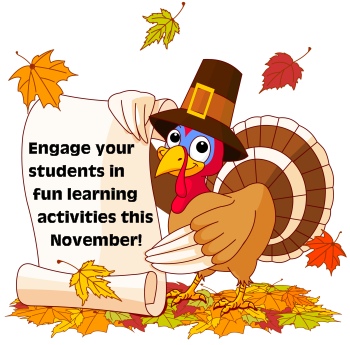 Many of the Thanksgiving teaching resources found above can be used any time of the year, but they are lesson plans that I have traditionally used during autumn and November.

On my Thanksgiving teaching resources pages, you will find fun, unique, and creative lesson plan ideas for English and Math, as well as powerpoint activities, bulletin board displays, and blank writing stationery.

I hope that you will find some ideas for Thanksgiving lesson plans on the above pages that will engage your students in fun learning activities this November!

Thank you for visiting my Free Printable November Classroom Calendars page.
Please be sure to check out the other pages on Unique
Teaching Resources for a large variety of fun lesson plan activities
that will engage your students in learning and save you valuable time.

Creator and Website Manager
Unique Teaching Resources