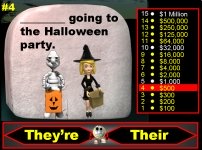 Your students will enjoy playing this engaging Halloween Who Wants To Be A Millionaire game while they are reviewing homophones. (Ex: witch/which, right/right, hole/whole, would/wood, there/their)
Click on the Add to Cart button
above to purchase this powerpoint.
You will be emailed a download link
for this resource so you can
download and use it today!

Click below for more information about:
Halloween Homophones Powerpoint