The Amazing Reading Race:
Reading Passports and Maps
A unique reading record chart that will encourage your students
to read 7 books as they race across the 7 continents of the world!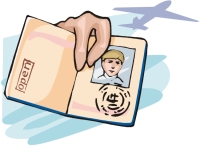 The Amazing Reading Race Passports and Maps: Do you want a fun way to motivate your students to read books on their own?

Do you want your students to enjoy reading as they race around the 7 continents of the world filling out their reading passports?

I love to travel and I love when children become excited about reading. This unique set of reading resources combines both of my passions together!

One of my favorite television shows to watch is The Amazing Race. I enjoy watching all of the interesting countries that the teams get to visit and the difficult challenges that the teams must complete in order to not be eliminated from the race.


Each athlete (student) in your classroom, will be required to read 7 different genres of literature, representing the 7 continents of the world.
(There is a second version of The Amazing Reading Race that does not use genres and students can pick any 7 books. I will show the second version after this genre version.)

After students have finished reading a genre, they will fill out those pages in their reading passports by writing a summary of the book and drawing a picture.

Next, students color that continent on their Amazing Reading Race Maps.

Below is an example of the Amazing Reading Race Map. This map contains 7 continents and each continent requires students to read a different genre:
North America: Adventure
South America: Realistic Fiction
Europe: Fantasy
Asia: Historical Fiction
Africa: Science Fiction
Australia: Biography
Antarctica: Mystery

After a student has finished reading a book (ex: biography), he should color the corresponding continent on his map (ex: Australia).

Your students will be eager to race around the world reading all 7 different genres so that they can color each continent on their reading maps.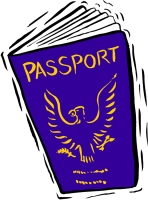 This fun set of motivating reading resources also comes with student reading passports.

Students begin their reading passports by filling out information about themselves and gluing (or drawing) a picture of themselves on the front of their reading passports.

After students have read a book, they should find that genre/continent in their reading passports and write a summary about the book. There is also an area for students to draw a picture of their favorite part of the book on those two passport pages.

I have designed the passports to be folded booklets. There are 8 passport worksheets for you to print out. You need to photocopy these worksheets front to back, fold the pages in half, assemble them in numerical order, and then staple the passport pages together.
Student Reading Passports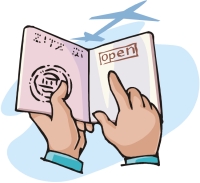 There are 8 worksheets to print out in order to make your students' reading passports. The first worksheet (shown below) is the front cover and back cover.

The remaining 7 worksheets contain the pages where students write their summaries for each genre/continent in their Amazing Reading Race passports.

When you look at these 7 pages (shown below), it will look a bit confusing and the genres/continents on each page will appear to not match up with each other. Once you print out all 8 worksheets, follow the directions page for which worksheets to photocopy front to back, and then fold the pages in half, they will all match up to become a passport booklet with a front cover, back cover, and pages numbered in order 1 - 14.
Student Reading Passports:
Version #2 (no genres written on the continents)

I realize that there are teachers who will not want to require that their students read the 7 genres that I have selected.

For this reason, I have designed a second set of Amazing Reading Race resources that encourages students to read 7 books (not 7 different genres).
Amazing Reading Race: Student Award Certificate

After your students have successfully raced around the 7 continents of the world reading 7 different books, present them with the Amazing Reading Race award certificate that is included in this set of teaching resources.
Bulletin Board Display Banner:

Many teachers like to make classroom bulletin board displays featuring their students' reading incentive charts. These classroom displays provide a strong visual reminder to students of the reading goal that they are trying to achieve.

I know that it takes teachers a lot of valuable time to assemble their bulletin board displays. Many teachers spend hours of time cutting out large display letters or making a banner on their own at home on their computer.

This time is valuable and better spent on developing your classroom curriculum and grading papers, so I have designed a matching 5 page banner for your bulletin board display.

If you have access to a laminating machine, you can laminate your banner so that it is durable and you can use it again next year.
Click on one of the links below
to go to a specific sticker chart page: