Halloween Printable Worksheets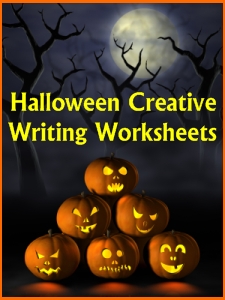 Welcome to my Halloween worksheets and matching banners page.

This page contains examples of colorful worksheet sets that contain the following themes: witch, ghost, pumpkin, monster, skeleton, cat, tombstone, haunted house, and spooky night.

It is often difficult to get students enthusiastic about writing assignments. I have found that my students immediately become more interested in creative writing activities when their writing worksheets are unique and colorful.

For final draft writing assignments, when I give my students colorful printable worksheets to write on, I have found that they tend to use their best effort and they are more careful to not make careless spelling, grammar, and punctuation errors.

I have designed my Halloween and October creative writing worksheets to have large borders on them. I cut the white edges off of my students' color stationery, as I think that they look better displayed on a bulletin board this way.

My October and Halloween printable worksheet sets contain the following teaching resources:
(1) 5 page matching bulletin board banner
(2) Black and white printable worksheets for students to write their first drafts on
(3) Color printable worksheets for students to write their final drafts on
Haunted House Stationery Set
Worksheet and Bulletin Board Display Banner
This Haunted House set of
Halloween worksheets includes the following:
Ghostly Tales Stationery Set
Worksheet and Bulletin Board Display Banner
This Ghostly Tales set of
Halloween worksheets includes the following:
One Spooky Night Stationery Set
Worksheet and Bulletin Board Display Banner
This One Spooky Night set of
Halloween worksheets includes the following:
Pumpkin Patch Stationery Set
Worksheet and Bulletin Board Display Banner
This Pumpkin Patch set of
Halloween worksheets includes the following:
Frankenstein Stationery Set
Worksheet and Bulletin Board Display Banner
This Frankenstein set of
Halloween printable worksheets includes the following:
Witch Stationery Set
Worksheet and Bulletin Board Display Banner
This Witch set of Halloween
printable worksheets includes the following:
Spooky Character Stories Stationery Set
Worksheet and Bulletin Board Display Banner
This Spooky Character Stories set of Halloween
printable worksheets includes the following:
October Creative Writing Stationery Set
Worksheet and Bulletin Board Display Banner
This October Creative Writing set of Halloween
printable worksheets includes the following:
Graveyard Tales Stationery Set
Worksheet and Bulletin Board Display Banner
This Graveyard Tales set of Halloween
printable worksheets includes the following: