Free Sticker Chart Download
Download a Free Homework Sticker Chart
and Matching Bulletin Board Display Banner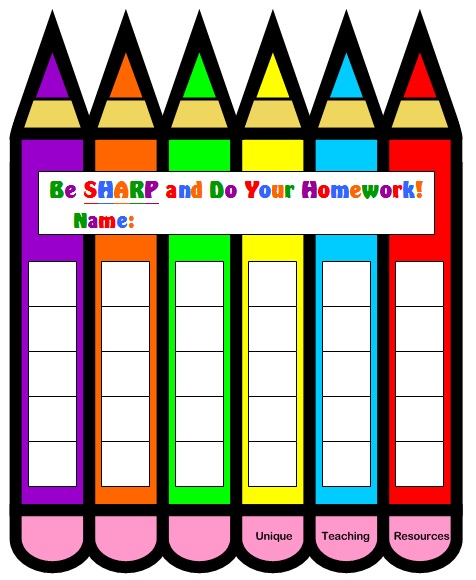 Above: Free Homework Sticker Chart Download

Above: 5 Page Bulletin Board Display Banner
If you have found some of the free resources on this page useful,
I'd appreciate it very much if you would help support my
website by clicking on the "Like" button below.
&nbsp&nbsp


Encourage your students to be SHARP
by doing their homework!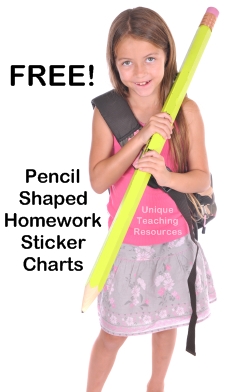 Are you looking for a unique sticker chart that will record the number of homework assignments that your students have completed?

I have found that using a sticker chart is an easy way to encourage my students to do their homework assignments.

I have designed the boxes inside these free sticker chart templates to fit the standard small stickers that many teachers use. If you do not have these small stickers, you can draw a smiley face or place a check mark inside each box. There are 30 sticker chart boxes on these free sticker chart templates.

You can choose to print out the color templates or have your students color the black and white templates themselves. These templates have thick border lines around them, so they will be easy for your students to cut out their homework sticker charts themselves.

These free teaching resources include:
color sticker chart template
black and white template
5 page bulletin board display banner

Scroll back up to the top of this page and you will find the free download links under the pictures of the sticker chart and the banner.

Are you interested in seeing the other sticker charts
that are available on Unique Teaching Resources?
Click on one of the links below
to go to a specific sticker chart page:


READING STICKER CHARTS:
Pizza Reading Sticker Charts
|
Dive Into Reading Sticker Charts
Reading Rainbow Sticker Charts
|
Reading Passports Sticker Charts
Penguin Reading Sticker Charts
|
Good Apple Sticker Charts
Reading Umbrella Sticker Charts
|
I Love Reading Sticker Charts
Summer Ice Cream Cone Sticker Charts
|
Reading is SNOW Much Fun Sticker Charts

FREE Sticker Chart Templates - Dog Reading Sticker Charts
HOMEWORK STICKER CHARTS:

FREE Sticker Chart Download - Homework Pencil Sticker Charts
MATH STICKER CHARTS:
Multiplication Pizza Sticker Charts
|
Ice Cream Multiplication Sticker Charts
ANY OCCASION STICKER CHARTS:
Soccer Sticker Charts
|
Football Sticker Charts
Spring Flowers Sticker Charts
|
100 Percent Club Sticker Charts


Turtle Sticker Charts
|
Recycling Sticker Charts
HOLIDAY AND SEASONAL STICKER CHARTS:
Halloween Sticker Charts
|
Fall and Thanksgiving Sticker Charts
Winter and Christmas Sticker Charts
|
St. Patrick's Day Sticker Charts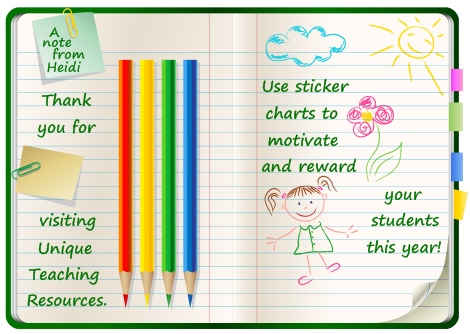 Thank you for visiting my Free Sticker Chart Download page.
Please be sure to check out the other pages on Unique
Teaching Resources for a large variety of fun lesson plan activities
that will engage your students in learning and save you valuable time.

Creator and Website Manager
Unique Teaching Resources